UPDATE: It seems that Google profile is NO LONGER Dofollow. The links of old profiles seem to have been grandfathered as "dofollow ", but for new profiles, any link added to the profile is set to nofollow. This is what I and one of my subscribers found out recently!
Still, since it is Google, I would create a profile anyway. It would help spread my name across the web, and also bring me a little traffic.
Digg has also become nofollow, both for old and new profiles. 
 Thanks to Aaron (one of my blog readers) for letting me know! 
I will keep the rest of this article intact for posterity! 
——
If you are reading this, you probably already know the power of 'do follow' backlinks. Truth to be told, you can get traffic both from 'nofollow' and 'do follow' links; in fact, sometimes nofollow links might give you more traffic, depending on the site your link is located at! But if you want to get good rankings for your site in SERPs, only a 'dofollow' backlink can help you! Let's discover how to get 'do follow' backlinks from the two top dogs of World Wide Web!
Google: One of the little known facts is that you can get a 'dofollow' backlink directly from the creators of 'pagerank': yep, I mean the big G or Google™ as it is known to us. And it is so simple that I wonder why I didn't figure it out sooner!
Now whenever I see her put a couple of backlinks on any page or site I check closely to see if the links on that page are all dofollow. Since she is the backlink queen, I think she won't be putting backlinks on a page without reason, but that's just my guess.
What you need to do is pretty simple: just open a Google account and then setup a public profile by going to:
http://www.google.com/s2/profiles/me/editprofile
If you use any of the Google's services such as Analytics™, Adwords™, Adsense™, Google Sites, or Gmail™, then you already have a Google account and there is no need to signup again! Just go to the link above to setup your public profile.
Okay, when you setup your Google profile for the first time, you should get a message asking you if you want your full name to be displayed in Google's search results. You should opt for it as it is one way people can locate you easily and quickly on the web.

If you don't get this message, then just to your profile page. FYI, the URL to your public profile page would be in this format (the number at the end of the URL might differ from user to user):
http://www.google.com/s2/profiles/106055399441399261028
Once there, check the option "Display my full name so I can be found in search" as shown by the arrow in the following screenshot:

Okay, now the juiciest part you have been waiting eagerly for: that is, the "do follow' part. A little lower down on your profile page, you will find a section where you can add as many custom links as you want to your profile page. I would put my "anchor text" in the "Link name" box. All of your links would be visible on the right hand side of your Google profile.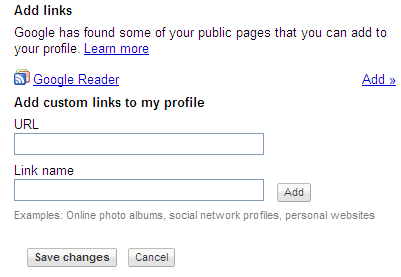 All the links you add here are DoFollow! If you are a Firefox user, you can verify this by using the SearchStatus plugin of Firefox. A 'no follow' link is highlighted in red, unlike a 'do follow' link! I visited my profile page using Firefox browser and as you can see from the screenshot below, the links on the left are NOT highlighted and hence are DoFollow:

Digg: Another giant site you can get a DoFollow link from is Digg.com. We are all familiar with this site; in fact, if you have even a little knowledge about social media, you are sure to know of Digg.com.
Once you signup for Digg, login and click on 'My Profile' link at the top. Then click on the 'Add a Bio & Links' link on the right, as pointed by this arrow: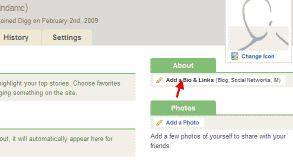 A little lower down on that page, you will find a section called ' Links and Contact Info'. In the description box, you can type your "anchor text" and put your link in the next box. You are allowed to add as many links as you want!

Make sure that you go to your Profile settings and set your links to be accessible by public. In the 'Display URLs I add to my profile to' section, choose the option 'Anyone' as shown below: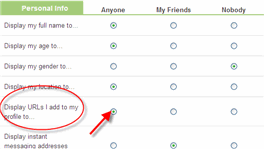 Once you do that, your links should be visible on your profile page (the URL to your profile page would be http://digg.com/users/username, where "username" is your Digg username).
I visited my profile page using Firefox browser and once again you can see from the screenshot below that they are NOT highlighted in red. Therefore, they are all 'do follow' links: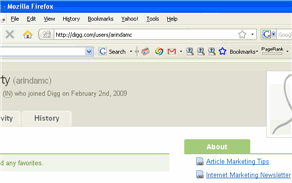 This is just the tip of the iceberg!